Flowers, flowers, flowers! There can't be a wedding without plenty of flowers to decorate the aisle, walls, and tables. But flowers are notoriously expensive, and no one wants to waste their wedding budget on flowers alone. Even plastic pre-made flowers can get a bit pricey! One of the best solutions to not breaking the bank on flowers is to make them yourself.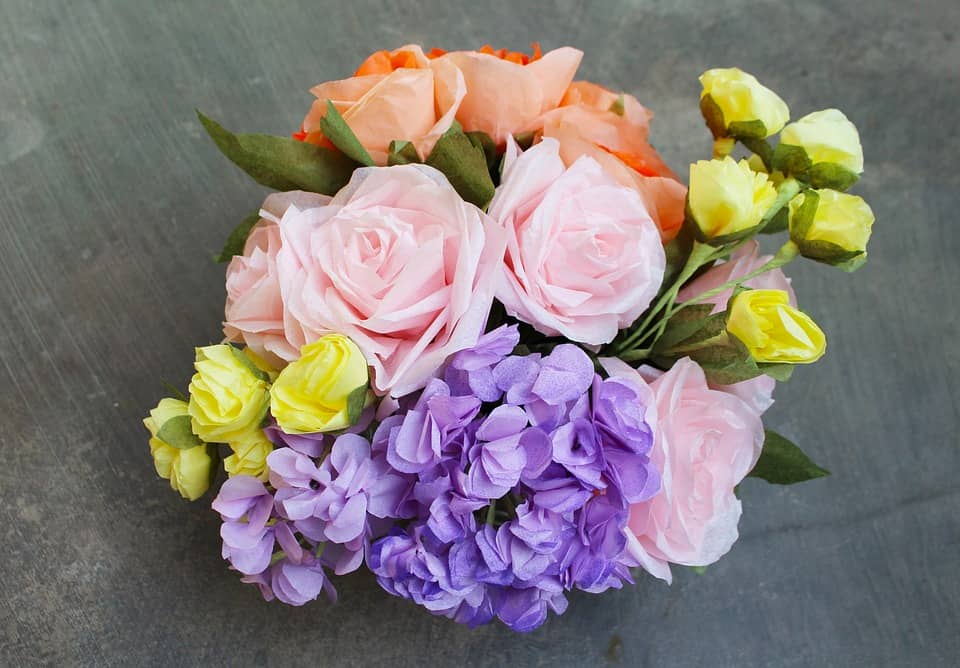 To help you find the method that's right for your wedding, here we've compiled eight of the best techniques to make your very own DIY flowers that will stun your guests and give you the day of your dreams.
1. Origami Paper Flowers
If you've ever heard of a thousand paper cranes, then get ready for the thousand paper flowers. Origami is an excellent way to make beautiful flowers for any centerpiece or decor. All you need is a perfectly square piece of paper, and some hands to help you fold these beauties! Be sure to pick the flower you'd like to fold, as there are many ways to make several different types of flowers. One of the best things about origami paper flowers; the color options are limitless.
2. Scrap Fabric Flowers
Have you done some DIY projects in the past that required fabric? Are some of it leftover and you don't know what to do with it? Then this is the perfect plan for you! Use some of those old fabric scraps to either glue or sew together some beautiful flowers for your wedding. Fabric flowers are incredibly sturdy, and hold up well in all types of climates, so you won't have to worry about them falling apart. On top of that, the soft exterior is just plain cute.
3. Tissue Paper Flowers
Fragile, but elegant, tissue paper flowers are an excellent way to decorate your wedding tables! Tissue paper is a great way to make flowers like chrysanthemums and carnations, as the texture simulates their petals very well. Be sure to keep these flowers in a safe, controlled environment so they won't be damaged before the big event.
4. Sweater Flowers
This is similar to the scrap fabric method but requires a few old sweaters that will never be worn again. Cutting up some fabric from those, you can sew or glue together some beautiful flowers that have a cute knit texture. This is great for those looking for a rustic wedding, especially if the colors match your own! The only downfall to this method is, for a lot of flowers, you may need a lot of sweaters. 
5. Yarn Flowers
That's right, you heard it. Yarn flowers are absolutely adorable, and perfect for making flowers like daisies and dandelions. While this involves yarn, this project doesn't require the ability to knit or crochet. The only thing you'll need to make this project come to life is your yarn of choice, a fork, and some scissors. The best part about this project, it should only take you a day or two to complete, depending on the amount of flowers needed for your decorations!
6. Map Roses
Just like making paper flowers before, this time you'll be using a different material; maps! These may look like just any paper flowers, but once you get up close, you'll be able to see the intricacies of the roads and map work. These can be made extra special and customized by using maps that include special places, such as where you and your significant other met, where you had your first kiss, or where the proposal happened.
The options are endless with this DIY project! Shape your map flowers into any kind of flower following either the previously mentioned origami instructions, or the paper flower instructions.
7. Pistachio Shell Flowers
If you eat plenty of pistachios, this project will be a breeze for you! Start collecting all of your broken pistachio shells so you can begin painting and gluing them together into flower patterns. You can choose any color of paint to make these cute little flowers, and play around with how you attach the pistachio shells into different patterns to make unique flowers that might not even exist in the real world.
If you don't eat plenty of pistachios in your house, ask friends if they'd be willing to donate their shells to you for this project so you don't break the bank on buying pistachios just for their shells.
8. Crochet Flowers
This project might be a bit time consuming depending on the number of flowers you need for your wedding, but it is definitely fulfilling. If you know how to break out those old crochet needles and get your crochet friends involved to make these cute yarn flowers! You can use any texture of the yarn to crochet for unique flowers that will match your decor and colors. Be sure to give yourself time to do this project, and don't try to rush too many flowers at once so your hands won't get exhausted.
Elegant, cute, bright, and fun, there's a DIY flower project out there for every wedding. While all of these projects will take some time and effort, you'll be so pleased with the outcome. Guests will be impressed with your dedication and craft skills once they learn that all of the flowers they see are handmade, and all by you.
Your big day is important, and you shouldn't have to spend a ton of money to make it perfect. DIY projects are a great way to make your day even more special than it already is. So, what are you waiting for? Get out there and get crafting!
For more fun wedding accessories and dresses, visit this site Luv Bridal Bridesmaids.