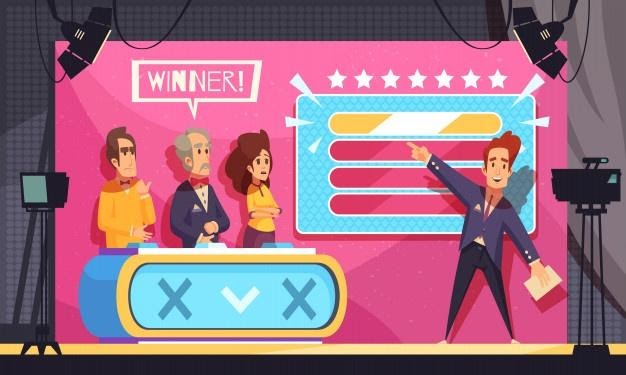 Jeopardy? Nope.
The Price is Right? Wrong.
Wheel of Fortune? No luck.
Time's up.
The correct answer: Truth or Consequences.
What was the First Game Show to Air on Commercially Licensed Television in the United States?
Truth or Consequences was the first game show to air on commercially licensed television in the United States. Believe it or not, it dates back nearly eighty years. At that time, game shows were a new concept in programming, so its first broadcast on July 1, 1941, was put out as a trial balloon. 
Since NBC wasn't sure how the public would respond to this new television format, they waited until 1950 to resume broadcasting of Truth or Consequences. By then, they had decided that the concept was commercially viable. It debuted on September 7, 1950, and was hosted by Ralph Edwards.
NBC was so confident that they scheduled the show in prime time. Later, in 1956, they gave the show a daytime slot with a new host, Bob Barker. (This launched Barker's career as a hugely successful game show host.
Truth or Consequences was the First Game Show to Air on Commercially Licensed Television in the United States, and it went on to enjoy a long run from 1950 to 1977.
The show's premise: contestants had to answer a question correctly, or face the "consequences" of acting out an embarrassing stunt. Pretty simple, but it proved to be very popular. And, as the creator and host Ralph Edwards put it, their contestants were "pretty good sports".
For the show's tenth anniversary, Edwards challenged all U.S. towns to a name change: "Truth or Consequences". Hot Springs, New Mexico, accepted the dare, and ever since has been called Truth or Consequences, New Mexico.
Game Show Winners and Losers
Games shows are an invention of the 20th Century. Amazingly, a television game show called Spelling Bee had its debut way back in 1938. During the 1950's, television became increasingly popular. Broadcasters sensed that they had a large "captive audience", so the number of game shows increased dramatically.
Shows with lower stakes ran during the daytime, to target an audience of homebound housewives. Shows that featured higher stakes aired during prime time. As time went on, the stakes got higher.
In the late 1950s, high-stakes game shows like The $64,000 Question had become huge hits. But suddenly, many of them were canceled due to the so-called "1950's quiz show scandals" – which revealed that some of the big winners had been cheating.
Game shows appeared to revive in the 1960's, with shows like Jeopardy! and Password. By the 1990's Who Wants to Be A Millionaire? was leading the game show pack, and "reality" shows like Survivor were giving the format a new twist. But, as with so many shows before them, the viewing public lost interest.
Truth or Consequences, the game show that started it all in 1950, spawned hundreds of imitators. But changes in public taste and access to new forms of media means they'll likely never relive their glory days, when television was a shiny new toy.
Also Read- How to make Selfies with Dorian Rossini [Best Guide]