The most beneficial and attractive kitchen designs don't require professional help. If you have patience, drive, and skills, you can complete these jobs on your own. Among all of the design ideas for urban kitchens, there are 10 best DIY kitchen design options that you may want to consider trying during your next project.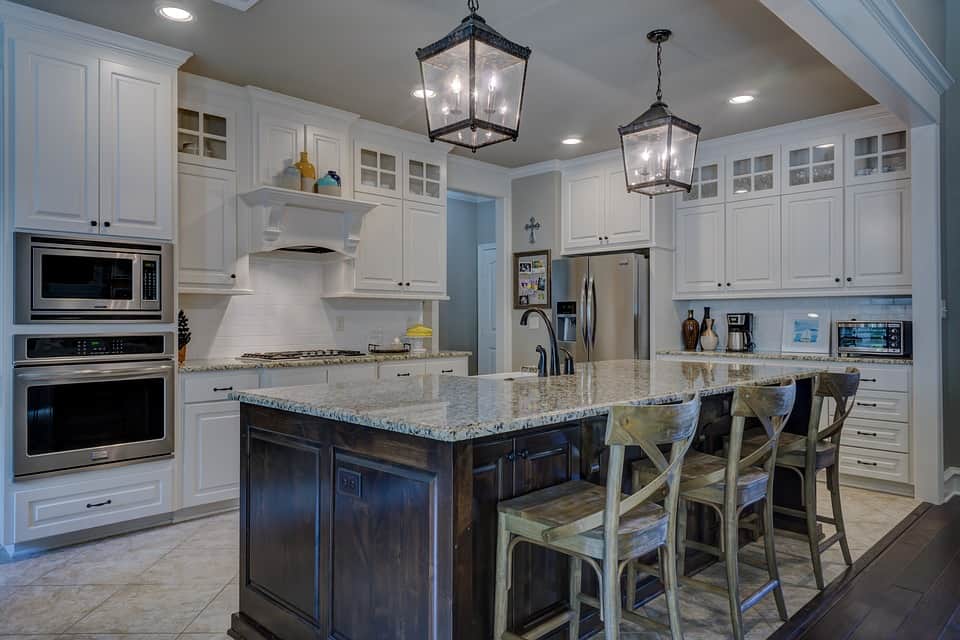 1. A Smart Kitchen
A smart kitchen is one of the easiest projects that you can tackle because you don't need to build anything. For this project, you must replace old outdated kitchen appliances with new smart products that are powered by modern technology. This is a tactical move because new technology-driven appliances provide great perks in a kitchen. For example, a smart fridge can display a grocery list on its main panel or on a smartphone along with reminders, and a smart stove can be programmed so that it will cook a meal at a certain time.
2. Rich Cabinet Colors
In an average kitchen, the cabinets on the walls are usually white. This trend is gradually fading away, which is why you should install cabinets with a rich tone if you're planning to renovate your kitchen. The best colors for cabinets are black and various shades of blue and green. If you want glossy cabinets, apply a coat of navy, plum, or emerald paint. All of these colors are dramatic, and they give a cabinet a touch of elegance.
3. Matching Design and Textures
If you want to tackle a simple project, focus on designs and textures in your kitchen. Many designers are now renovating kitchens with elements that provide clean lines, and you can achieve these results by implementing a few easy steps.
Begin by removing all cabinets that are mounted on the upper portion of the wall. The lack of cabinets in this area will make the kitchen appear brighter and bigger. This setup also provides more space for kitchen accessories on countertops.
The next thing that you must consider is the materials. To make everything stand out in the kitchen, use stylish materials that have bold textures. For example, you could install tiles that are:
All of these textures can create a focal point because they lack common polished elements that are featured on traditional tiles in an average kitchen. If you want an extra punch, invest in a ceiling treatment that stands out, such as wooden or tray beams.
4. Quartz
The countertops in a kitchen highlight cabinets, flooring, and shelves. One of the fanciest countertop materials is quartz since it has lines that provide character. Besides the cosmetic perks, quartz is also a great material because it's very durable. This high-end material can handle heat, grease, and grime, and it doesn't hold germs.
There are many quartz materials available for kitchens, and they feature colors that are appealing. The patterns on a slab of quartz also vary as consumers can pick a product with dramatic veining or unique particulates. Because all of the styles are cleaned, they work well in a vintage or modern design scheme.
5. Cabinetry With Storage Solutions
Cabinetry dominates a large portion of a kitchen, which is why most designers try to install practical cabinet options that are specifically built for certain items. If you renovate your kitchen this way, you'll eliminate common storage challenges. When structuring the layout for the cabinets, try to feature a storage solution for each of the following items:
Utensils
Cutlery
Spices
Pots and pans
The cabinet layout matters because a great setup will boost efficiency dramatically. Typically, you should install cabinets that will hold your most frequently used items near the stove or sink and cabinets for long-term products in a corner.
6. Unique Appliances
When kitchen appliances have a traditional stainless steel finish, they don't stand out in a design scheme. A great layout has appliances with colors that grab people's attention the moment that they step into the kitchen. Retro appliances have these colors; the most popular tones are ruby and light navy. However, because old-school stoves and fridges are designed with vintage elements, they're somewhat expensive.
To feature retro products in a design scheme, include something in the kitchen that compliments the vintage colors. For example, if you have a light blue stove and refrigerator, install wall paneling that has a matching tone.
7. New Flooring
A floor renovation project requires proper preparation. Before you begin, remove all carts, chairs, and furniture out of the kitchen. Once space is clear, you can enhance it will new flooring.
Ceramic is an ideal material for a kitchen floor because it's very classy. If you're a hardwood floor fan, you'll benefit from installing ceramic tiles as they have general hardware flooring characteristics with extra perks.
At most hardware stores, you can buy ceramic tile planks, or you could order custom pieces. The custom tiles are quite appealing since they can create stylish patterns in a kitchen.
8. Strategic Kitchen Island
One strategically placed kitchen island can make prep tasks easier if it has extra features. The best island features for a busy kitchen are cabinets, shelves, and a sink. If you work with a supplier, you may be able to acquire an island that has each of these design elements. When the island arrives, install it in the center of your kitchen.
9. Appealing Walls
All of the walls in a kitchen frame the layout. If your current walls are bland, you can enhance them with several tile slabs.
The color of the tiles will give your kitchen a certain vibe. Use bright tiles to make the kitchen vibrant and cheerful. If you want a classy design, use sleek tiles that are a neutral tone.
10. Great Outdoor Elements
When outdoors elements are incorporated in a kitchen's design scheme, key areas around general prep and cooking zones are bolder and brighter. To tackle this type of project, you'll need to tear down walls in order to install tall windows around the kitchen. If you place the windows by your bar and counters, you can admire nature during your daily routines.
Also Read- Top 7 Ways of Improperly Installing Synthetic Grass