In order to do business, you need to first generate leads. This is true for all businesses, including the real estate industry. Without leads, you won't be getting any new customers.
For realtors, it's important to maintain a steady stream of leads. While some months will naturally bring in more leads than others, it's the lulls in between that you need to focus on. You need to keep momentum to keep your commission coming in.
So, the ultimate question is how to generate leads in real estate?
Real estate is an unpredictable industry, but luckily there are many lead-gathering tactics and strategies to try out.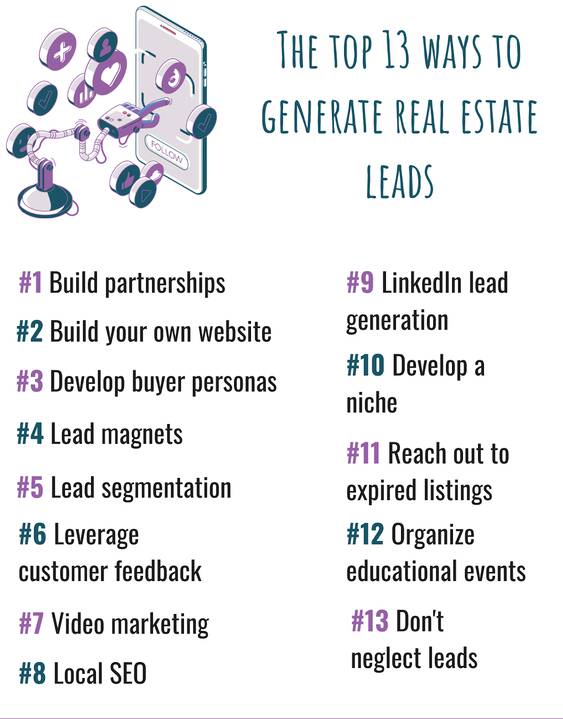 How to generate leads for real estate
Here are a few strategies to generate real estate leads online and in person.
1. Build partnerships
Success in real estate has a lot to do with building strong relationships. As a realtor, you need to work with people, which means lots of networking. Think outside the box in terms of the types of partnerships that you can build.
There are many local businesses that you can form mutually beneficial partnerships with. Businesses like insurance companies, personal bankers, commercial lenders, landscapers or even cleaning services.
2. Build your own website
If you're working for a large real estate firm, they'll likely give you a page on their website. But it's also a great idea to create your own website presence. This will allow you to start building your personal brand, showcase your specialties, and share reviews from previous clients.
It's also the perfect place to share more information with your clients regarding the challenges of buying and selling property.
3. Develop buyer personas
The first step to generate real estate leads online with a lead generation strategy is to develop buyer personas. You need to define your target customers with a fictitious representation of all important information about what your ideal customer looks like.
For example, for property owners, you can begin by considering what their challenges and motives are. For buyers, you can consider their ideal wish list that they'd be looking for in a property.
Buyer personas allow you to know the challenges of your target customers so you can develop a marketing strategy based on that.
4. Generate and direct leads to your CRM with lead magnets
Lead magnets are incentives that marketers offer to their potential clients in exchange for their email addresses or contact details, which then transfers those leads into your CRM. They are a great way to generate leads for real estate.
An example of a lead magnet for real estate could be creating a downloadable checklist for homeowners looking to sell their property.
5. Segment your leads to gain insights 
As your leads roll in, you need to segment them into different groups based on their characteristics or preferences. Segmenting your leads increases the chances of getting high conversions because you understand what they are looking for. This improves your ability to deliver better value to your potential customers.
6. Leverage positive customer feedback 
Sharing positive feedback and testimonials will help build your reputation as a realtor. And in turn, help you generate leads as property owners view you as an expert who can help them find buyers quickly. 
Create a review page on your website asking your clients to share their testimonials. You can also share your feedback on external sites such as Realtor.com, Zillow, and Trulia.
7. Develop an impressive video marketing strategy
According to the National Association of Realtors, 39% of homebuyers used sites with embedded video during their home searches, and 56% of them felt it was "very useful." Videos attract more visitors onto an agent's site and double the amount of time they spend there.
You can utilize these videos for lead generation by sharing them on social media platforms where your target market hangs out. This will lead them to your website, where you have an opportunity to hook them with other lead magnets.
8. Focus on local SEO
Local SEO is also an integral part of how to generate leads in real estate. It focuses on the region where you are targeting clients so that when they search for realtors, you appear in the searches. 
To improve your local SEO, create a Google Business Profile, set up on-page local SEO signals, and get listed on online directories.
9. Generate leads on LinkedIn
LinkedIn is a dynamic community with tons of opportunities to create, post, and share content. It's also an ideal social network for estate agents, whether you sell domestic or commercial property. Not only can you find business owners who might be looking for the right property but you can also discover people who might be looking for a new home.
10. Develop a niche
Become known as the recommended realtor for a specific neighborhood or property type. You can specialize in a certain neighborhood, apartment buildings, or retail space. Find a niche, and become an expert at it.
It then becomes much easier to market yourself and also for people to remember you and recommend you. The best way to generate real estate leads is to have a good reputation, and becoming an expert in a specific niche is a great way to become the go-to realtor for these specific buyers and sellers.
11. Reach out to expired listings
Pull a list of expired listings on realtor websites and reach out to the owners. Be sensitive to the fact that they may be frustrated or discouraged that they haven't sold their home. Approach them with an understanding of their frustrations, and offer them solutions.
12. Organize educational events
Organize educational events in your community – either in person or online. By teaching people about buying their first home, giving insights into the current market, or taking them through the rental process, you're building up your brand. You'll become a trusted resource.
13. Don't neglect leads
Now that you've managed to drum up a bunch of leads, don't neglect them. Keep up with your leads by continually reaching out to them via email or even the occasional call.
Keep your momentum going with consistent lead generation
Leads are the lifeblood of the real estate industry. A consistent stream of leads is what brings every business from zero to hero. Give the above strategies a try and see how they benefit your business.
Also Read- 10 Ways to Finance Real Estate Investments