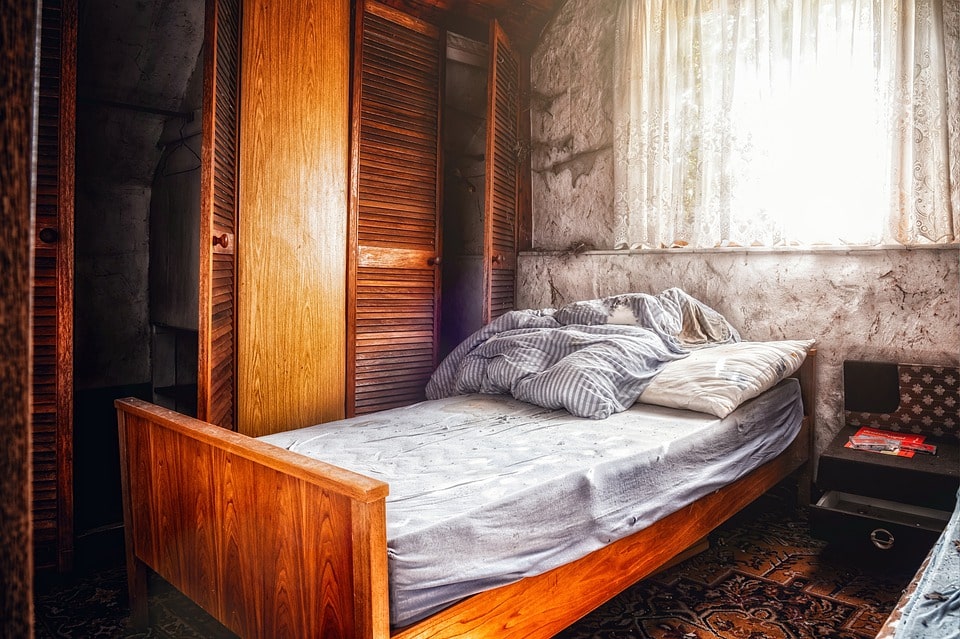 As much time as you may have spent shopping for and "breaking in" a new mattress, the time will come when you'll have to replace it.
Maybe you want to try out a new brand or type, or maybe your body needs a change for the sake of greater comfort.
There are several ways you can dispose of your used mattress. If it's in an appropriate condition, you may be able to recycle or donate it rather than throwing it out. It will depend on a number of things: the condition of the mattress, where you live, and if there facilities in your community that offer any of these services.
Are You Ready for a New Mattress?
In general, you should expect to replace your mattress every 8 years on average.
But different types have different lifespans. For example, while innerspring mattresses may last 10 years, latex and memory foam may have a lifespan of 15 years.
Other factors in mattress aging: mattress design, type of material, degree of care, and the type of atmosphere the mattress is exposed to.
The most important questions to ask: how does the mattress feel – i.e. is it lumpy, sagging, thinning? Is it comfortable enough to you the rest you need at night?
If the answer to that last question is no, it may be time for a change. But first, you need to figure out what to do with the old one.
How to Dispose of a Mattress
You may choose to donate your old mattress. But keep in mind that the level of wear-and-tear may make it unusable. Also, be aware that charitable organizations must maintain certain standards when they evaluate your donation for hygiene and cleanliness.
Will your Mattress be Accepted as a Donation?
Below are some guidelines if you're thinking of donating.
Infestations: Don't donate anything with past or current infestations of any variety, such as bed bugs or mold. Surface cleaning won't clear the problem.
Serious Structural Problems: Jutting coils, extreme sagging, and lumping make your mattress an unsuitable donation.
Tears or Holes: Don't donate anything with obvious holes or rips. Make sure mattress cover, tears, or holes. Make sure the mattress cover is firmly affixed.
Stains: Mattresses showing stains or permanent discolorations should not be donated.
Where to Donate?
You have a few options.
You might consider one of the larger organizations, such as Goodwill, Habitat for Humanity, United Way, or (in America) the Furniture Bank Association of America, or the Catholic Charities organization.
Or you might want to approach a smaller local charity in your community.
Whatever you choose, check ahead to see if they take donations and, if so, what their guidelines are and how they arrange for pickup.
Recycling
If your mattress isn't donation-worthy, it's definitely worth trying the recycling option. Consider this: nearly 20 million mattresses end up in a landfill each year. This has a serious impact on the environment.
Yet about 85% of these used mattresses can successfully be broken down for recycling. 
You have two options. Look for a local recycling center, which will pick up for free or for a small fee.
Or you can do the recycling work yourself, by breaking the mattress down into parts (coils, frame, etc.) that can then be recycled. You might even find ways of using these parts yourself – for example in the garden, or for home repairs, etc.
Throwing Out Your Mattress
Throwing away is the "if all else fails" option – i.e., you can't donate, recycle, or give it away.
Some areas don't allow you to put an entire mattress out for trash pickup. The result: the mattress will be left sitting on the curb on garbage day, and you could get ticketed or fined. Not the result you want!
Depending on the bylaws in your community, throwing away may not be an option, so you'll need to do your homework. Google it!
Conclusion
When your mattress is no longer comfortable, it's time to dispose of it.
There are several options, including donation, recycling, and throwing out. The choice that's best for you depends on mattress condition and local bylaws – so do your research!
Also Read- Are You Suffering From Sleepless Nights Due To Past Trauma? Here Are 8 Things That Can Help You Overcome It