If you come across a file that ends with the .swf extension (.swf), you will know that you are dealing with an SWF file. You might have a problem accessing it and you might be wondering 'how to open an SWF file'. As a matter of fact, the swf file needs the Adobe Flash player. Only then you can open the file. SWF is an abbreviation for Small Web Format.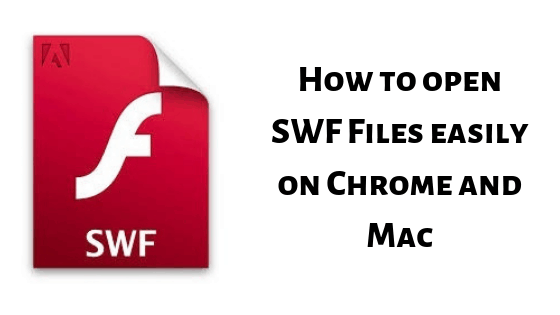 It also is referred to as ShockWave Flash. That is because the files are created using Adobe Flash software. .swf files can contain audio, video, and animations. They are all compressed in such a way that sharing them online becomes easier. Hence, the name, Small Web Format.
METHOD A: How to open SWF file on Chrome
Install Adobe Flash Player
First of all, you will have to install the Adobe Flash Player. After installing, make sure if your chrome browser is installed with Adobe Flash or not. In case it is not, install it. You can do that by following this link: https://get.adobe.com/flashplayer/
After the installation, you will have to enable Adobe Flash player in chrome. This can be done by copying this link: chrome://settings/content to Chrome's address bar. Hit enter so that you can be redirected to Chrome content settings page.
Navigate to the "Flash" option and click on it. Turn on "Ask first (Recommendation)".
Now, simply open your SWF file. This is very simple. All you have to do is Right-Click on the file you want to open. Click on "Open with". Then, select Chrome. This way, your SWF file will be opened with Chrome browser.
NOTE: You can also have a default opener for all of your SWF files.
Go to Properties > Open With > Change > select Chrome
METHOD B: How to Play SWF on Mac
Here lies a fact: SWF files cannot be opened with Mac. But you still can do that by using a third-party player. For that, you will have to first download the third-party player.
Part 1: Downloading and Installing
You have to begin by downloading a third-party player. You can use the Elmedia player. Download and Install Elmedia Player.
Downloading Elmedia player is pretty easy. All you have to do is visit the official website for Elmedia Player (https://mac.eltima.com/swf-player.html).
You will find a blue-colored download button. And, we are done with the download part.
Now, go to Downloads. There, you will find an "elmediaplayer.dmg" file. Simply click on it to install it. 
After installation, Double-Click on the Elmedia Player app to open it. 
Part 2: How to open a file on it
Drag your file. Use shortcut keys Command + o to open the SWF file.
On your SWF file, click on "Open with Elmedia Player".
You can follow the above-mentioned methods to open SWF files with Chrome and mac. If you still cannot do it, your file must be corrupted. Try again with an uncorrupt file.